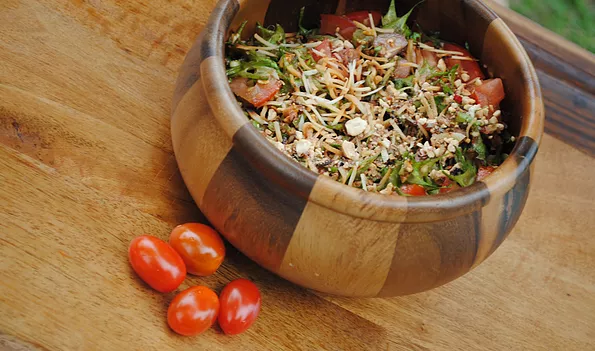 Ingredients
500gms Wing beans- sliced fine
3 Hot Chilies- pounded
5-6 Shallots-sliced
1large Tomato- chopped
3tbsp Palm Sugar
2tbsp Tamarind pulp
¾ cup Coconut – grated-white part only
3tbsp Peanuts- roasted and pounded coarsely
½-3/4 tbsp Salt
Method
Add a pinch of salt to coconut and roast on medium to low heat in a non stick pan till light brown. Mix chilies, tamarind pulp, palm sugar and salt.
In a mixing bowl, put sliced wing beans and mix in all the ingredients. Check seasoning.
Transfer to a serving bowl and serve.
Note: Wing beans can be used raw or blanched.